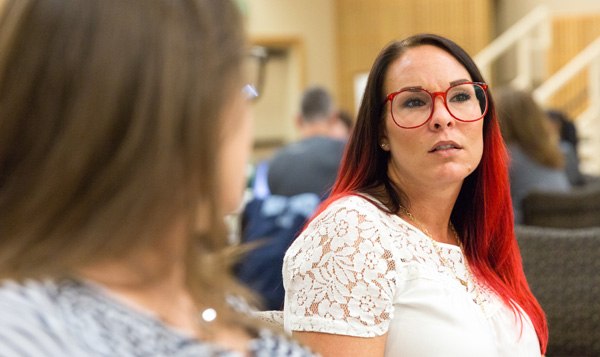 The Doctor of Education in Organizational Leadership Program (Ed.D.) consists of 54 units of coursework. Students come together four times a year for four days of leadership theme courses and research courses. The program is delivered in a cohort model.
Students also participate in virtual learning throughout the three years of coursework. This blended structure offers flexibility for the employed student. Between the on-campus and virtual sessions, students meet in their regional Learning Groups. Learning Groups provide opportunities for small group student-faculty interaction, skill building, reflection, networking, and coaching.
Creating Change
Our students become adept in successfully designing and creating change in organizations and making significant contributions to their organizations and communities. Program highlights include:
A program structure that enables fully-employed professionals to complete their doctorate degree while continuing their careers;
Relevant and challenging curriculum grounded in current theory and practice;
Developmental approach to learning that ensures greater breadth and depth of knowledge and skills;
Caring, dynamic faculty with high levels of expertise in their field —dedicated to excellent teaching and student success;
Student engagement in assignments, projects, and research that connects learning to hands-on experience in organizational life;
Extraordinary blend of face-to-face and technology-based learning experiences;
Leadership Development Plan with objectives to develop and sustain growth in leadership competencies;
Regional learning groups coached by leader-practitioners with doctorate degrees; and
A strong alumni network.