By connecting theory to practice, the doctoral program engages a developmental approach to learning that allows knowledge and skills to be continually refined and reinforced in real-world applications.
The program is framed by leadership, change, and contribution developed across three years. Concurrently, students engage in a research sequence that culminates in a major contribution to the field through dissertation research.
Each year of the Doctor of Education in Organizational Leadership Program focuses on specific aspects of leadership: personal/interpersonal, teams, and organizations.
Leadership Sequence
Year One: Personal/Interpersonal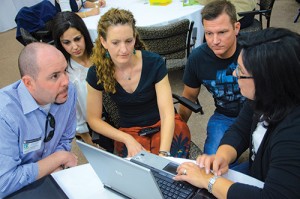 First-year students focus on leadership and growth in the personal and interpersonal areas. To be effective, leaders must continually grow in three areas: knowledge, skills, and being.  They develop knowledge and skills related to personal awareness, leadership, and interpersonal effectiveness. "Being" includes the leader's character, love, authenticity, and compassion inspiring others to grow and change. Specific theory areas studied include self-leadership and balance, personal and interpersonal communication and conflict, coaching, third-party intervention, and classic and contemporary leadership theories and approaches. The year-one coursework provides students with an extensive exploration of various leadership principles, models, and theories with an emphasis on developing a personal leadership style that is authentic and effective within the student's professional context.  Students apply their learning through activities, assignments, and projects that improve their ability to build and nourish relationships, and to handle difficult and important conversations in safe and constructive ways. Because a key element of leadership effectiveness is knowledge and mastery of self, students take a variety of self-assessment instruments resulting in the development of goals and action plans for continued improvement of their leadership practice. Additional self-awareness activities include identifying strengths and weaknesses, improving life balance, clarifying core values, defining a vision for the future, developing a life purpose statement, and exploring the shadow side of leadership.
Year Two: Teams
The second year of the program is dedicated to building knowledge and skills critical to leaders in contemporary organizations who depend upon the effective work of groups and teams. This year focuses on developing leadership in building, sustaining, encouraging, and coaching effective groups and teams. Theoretical foundations are drawn from organizational theory, organizational development, social science, behavioral science, adult learning theory, leadership, and group dynamics. Students learn to manage group conflict, shift positions to shared interests, teach and model effective process, maximize inclusion, empower others, encourage commitment, and appreciate differences in groups. Theory and practice are integrated in a developmental sequence that builds skills in observation, diagnosis, meeting design, facilitation, process consultation, and process intervention. Students apply their knowledge in the field pertinent to their own and their organizations' interests and needs.
Year Three: Organizations
In the third year students adopt a scholarly practitioner perspective whereby theory informs practice. The focus is on organizational studies as it relates to theory, futures, change, and development literature including major world trends and techniques. As leaders, doctoral students combine depth and breadth of organizational transformation theories, models, methods, and processes as they become architects of change. Year three explores the paradigms that shape world views, methods of leading and managing transitions, approaches to serving as an agent of change, the role of culture within organizations, developing an understanding of the foundational theories of organizational studies, and reframing thinking about organizational systems. Organizational theories and practice focus on developing strategic thinking related to designing change interventions that will increase an organization's effectiveness. The Change Initiative-Capstone Project affords students an opportunity to engage in high-impact learning processes, including those that apply theory to practice though experiential learning, are relevant, build knowledge and skills, contribute to the community, and advance diverse perspectives. Students integrate and apply learnings from the third year and prior years as appropriate and display these learnings in a scholarly medium. The Change Initiative-Capstone Project strengthens research, scholarly writing, critical-thinking, and reflection skills that further prepare students for the dissertation process.
Research Sequence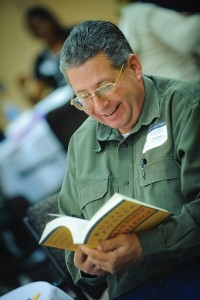 The sequence of research courses prepares doctoral students to use research to inform and improve practice, develop skills to complete their dissertation, and to conduct research within the context of organizations.
Research courses are delivered face-to-face and virtually during each term of the first two years. The research courses are designed to promote the integration of theory and practice, to make concepts and processes of inquiry tangible, and to provide opportunities for students to develop their research skills. Research courses are included in the third year, affording students the opportunity for dissertation work. Upon completion of the research courses, students are prepared to successfully conduct dissertation research.
Year One Research
The first year research courses focus on doctoral level academic writing, research literacy including the nature and types or research, selecting a topic, introduction to the literature review, and database search skills. Students develop a problem statement, main research question, and a purpose statement. Overviews of quantitative and qualitative designs are introduced with an emphasis on selecting the method that best aligns with the study.
Year Two Research
In the second year, students continue to deepen their understanding of quantitative and qualitative research methods. In addition to learning statistics, students write a concept paper which includes the rationale for conducting a study, a synthesis of the literature that provides a background of the problem, the problem statement, and the purpose of the study. Students also participate in activities designed to give them practical research experience.
Year Three Research
Students enroll in a research course in each semester of the third year working independently with a dissertation chair and committee. Continuous enrollment is required in dissertation courses until students complete the dissertation and earn their degree.
Curriculum
Total program: 54 semester hours
The Ed.D. program is delivered through a blended delivery of on-site in person practicums and virtual coursework. Students attend in person, on-site practicums twice per semester. The annual calendar of practicums is available from program office. The balance of the credit hours and assignments are delivered virtually (e.g. webinars, asynchronous work, etc.). In addition, students participate in a learning group in their geographical area. The program requires a time commitment of three years with 3 courses each semester (9 units): Two organizational leadership courses and one research course per semester.
The organizational leadership sequence is 12 courses over three years that may be taken for credit or for a grade. Each course integrates leadership theory, skill development, and practice in the field. Examples of content include leadership theory, change, coaching, communication, diversity, innovation, systems thinking, and teamwork. The research sequence is 6 courses over three years. Four courses provide students with a foundation in qualitative and quantitative research. Students complete these four research courses sequentially during the first two years. The remaining 2 research courses are completed during the dissertation process in the third year.
Year 1
Fall Semester
| Code | Course Title | Units |
| --- | --- | --- |
| ORGL 611 | Personal Leadership | 3 |
| ORGL 615 | Social Theory, Equity, and Justice | 3 |
| ORGL 684A | Research Literacy | 3 |
Spring Semester
| Code | Course Title | Units |
| --- | --- | --- |
| ORGL 613 | Classic and Contemporary Leadership Theories and Approaches | 3 |
| ORGL 617 | Ethical Leadership | 3 |
| ORGL 684B | Introduction to Dissertation Research | 3 |
Year 2
Fall Semester
| Code | Course Title | Units |
| --- | --- | --- |
| ORGL 623 | Leadership and Decision Making | 3 |
| ORGL 634 | Organizational Development and Change | 3 |
| ORGL 686A | Approach to Research Design and Analysis | 3 |
Spring Semester
| Code | Course Title | Units |
| --- | --- | --- |
| ORGL 633 | Leader as Change Agent | 3 |
| ORGL 625 | Culturally Proficient & Equitable Leadership | 3 |
| ORGL 686B | Developing a Research Proposal | 3 |
Year 3
Fall Semester
| Code | Course Title | Units |
| --- | --- | --- |
| ORGL 622 | Team Dynamics | 3 |
| ORGL 641 | Writing for Research | 3 |
| ORGL 698A | Dissertation in Organizational Leadership I | 3 |
Spring Semester
| Code | Course Title | Units |
| --- | --- | --- |
| ORGL 635 | Leading Program Development for Creativity & Innovation | 3 |
| ORGL 642 | Advancing Research to Publication | 3 |
| ORGL 698B | Dissertation in Organizational Leadership II | 3 |
*Students who do not complete the dissertation within the three years of coursework, must continuously enroll in the Dissertation in Organizational Leadership course each semester up to the eight-year time limit for the completion of the degree.
Advancement to Candidacy
Before a student can continue with his/her research leading to completion of the dissertation, the student must be Advanced to Candidacy. This usually happens at the end of the second year.
Following are the Advancement to Candidacy Criteria:
Successful completion of the eight courses (24 units) included in the Personal, Interpersonal and Team Arenas
Successful completion or four courses (12 units) of Research (684, 687, 688 and 686)
Completion of an approved Research Prospectus
A 3.0 GPA
Current Leadership Development Portfolio
Learning Group Faculty Support
No significant shortcomings in professional practice
Full admission to the program
The final third year courses for completion of the research are 698A and 698B. If the student does not finish his/her dissertation research within the three years of coursework he/she must enroll in Continuous Enrollment, Dissertation in Organizational Leadership each semester up to the eight year time limit for the completion of the degree.